Would you like to save time by using a template to send signature requests to your signers?
This feature is useful when a use case stands out and you often submit the same type of procedures.
All you will need to do is complete the missing information when you want to submit a signature request.
Creating a Procedure Template
Login to your Yousign account
Go to the Templates menu on the left side of your screen
Click on "Create a Template".
Define the name of the model and a description, if necessary.
Example
Let's imagine you want to create a template called Employment Contract. In your internal process, each employment contract is signed by both the HR department of your company and the new employee you hire. In addition, you have a standard document at your disposal. In this case, you will pre-register your HR department in the template in step 1 and add the standard document to set the signature block in step 2. Therefore, when using the template, all you will have to do is add your new employee and load the updated document with his information 😉.
To know
📝 Each template is shared with all users of the account, allowing you to work together efficiently as a team.
💡 If you add an external contact when you create a template, you will be able to change the contact information when you use that template to create a new procedure. So, the signature blocks and text fields will also be changed on your document with the right information.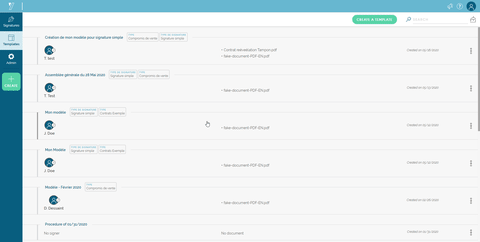 Note: This feature is available from the APP Business & API Premium plans.