Using Procedure Templates
Creating the same procedure over and over can be time consuming. You can save time by creating a template for the use case standing out in your organisation.
All you will need to do is complete the missing information when you want to submit a signature request.
Creating a Procedure Template
Login to your Yousign account
Go to the Templates menu on the left side of your screen
Click on "Create a Template".
Define the name of the model and a description, if necessary.
Example
Let's imagine you want to create a template for employment contract. In your internal process, each employment contract is signed by both the HR department and the new hire.
You might also use a standard document that you send to every new hire.
All you need to do is to pre-register your HR department in the template in step 1 and add the standard document to set the signature block in step 2.
Therefore, when using the template, you will just need to add your new employee as a signatory and add the other document needed for this specific hire 😉.
Good to know:
📝 Each user on your Yousign account will get access to the templates you created, allowing you to work together efficiently as a team.
💡 If you add an external contact when you create a template, you will be able to change the contact information when you use that template to create a new procedure. The signature blocks and text fields will also be changed on your document with the right information.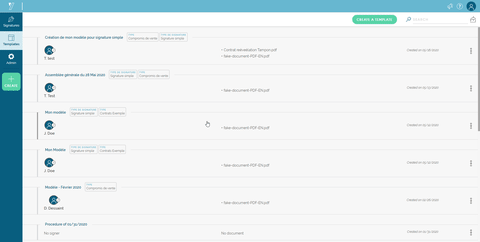 Note: This feature is available from the APP Business & API Premium plans.
To go further:
Was this article helpful?
0 out of 0 found this helpful