I have not received my security code
The security code will be automatically sent from Yousign when the signatory clicks on the green "SIGN" button:

Here are a few simple things to look into:
Check whether the code was sent by email or telephone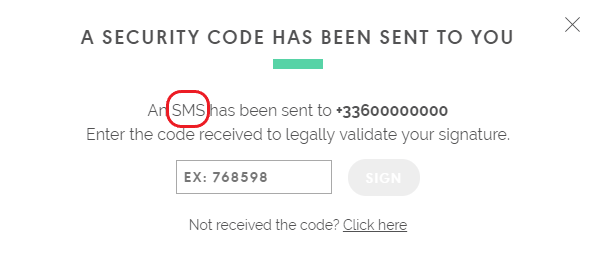 If it says "

an SMS has been sent to

":

Restart your mobile phone

Check that the phone number and the

country

code

are correct

Check that the phone is switched on

Check that the phone has mobile network and is not in "Airplane" mode.

Do a test to check that you can receive other SMS messages (not sent from Yousign).

If it says "

an E-mail has been sent to

":

Check that the E-mail address is correct and that there are no typos

Check that the E-mail has not been put into your junk or spam box
If you have completed all of these checks, you can request a new code by clicking on the "You haven't received a code? Click here" button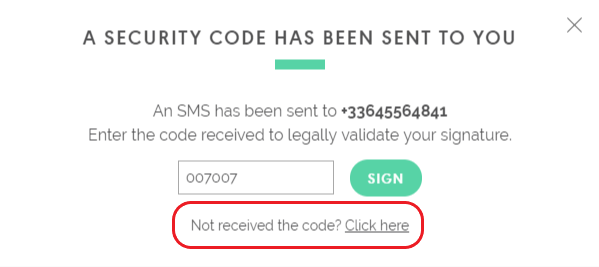 If the problem persists, do not hesitate to contact the sender of the procedure who will contact our technical support.
Please not that we limit the amount of security codes to: 5 send requests within a period of 210 seconds.
As a result, it is not necessary to request more than 5 security codes in succession.
In addition, as a security measure, 5 attempts to enter the code are permitted per SMS code received. This means that if you still haven't entered the correct code after 5 attempts, you will need to request another security code to be able to validate your signature.
Was this article helpful?
1 out of 14 found this helpful